Sweden - Swedish Roots
Leroy Andersons parents were born in Sweden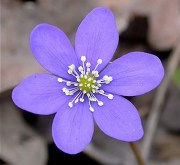 Updated March 23, 2023
Swedish Emigrants
Leroy Andersons parents were born in Sweden and emigrated as children with their families from Sweden to the United States. Like most Swedish immigrants to the USA, the Andersons were grateful to be American citizens while they celebrated their Swedish heritage. Leroy and his brother Russell both learned Swedish and enjoyed visiting Sweden and the other Nordic countries throughout their lives.
Leroy's mother, Anna Margareta Jönsson, was born in Stockholm, the youngest of four daughters of Bengt Jönsson and Maria Lovisa Hörling. The family lived at Rörstrandsgatan in Vasastaden (known as "Vasastan") in the Norrmalm district of Stockholm, not far from the Kungsbron, the bridge over Klara Sjö from Norrmalm to Kungsholmen. The family emigrated from Stockholm on May 29, 1887 to the USA by way of Kalmar and Karlskrona, Sweden. They traveled by ship on June 2, 1887 from Karlskrona to Rotterdam, Netherlands. On June 4, 1887 the Jönsson family continued by ship to the New York State Immigrant Processing Center at Castle Garden in New York City, arriving June 18, 1887. On June 19, 1887 they traveled by boat and then by train to Worcester, Massachusetts where they stayed with relatives, Albertine Hörling Ossene and her husband Julius Ossene.

In 1888 or 1889 they moved to Cambridge, Massachusetts. Their residence is unknown. In 1902 the Johnsons purchased a house at 269 Norfolk Street in Cambridge, close to the Swedish Evangelical Mission Church which Bengt had founded in 1897. Anna's father Bengt was a fine woodworker who built Victorian piano cases for the Ivers and Pond Company of Boston. Bengt Jonsson founded the Swedish Evangelical Mission Church in Cambridge at Norfolk and Hampshire Streets which moved to Lexington in 1965 and was renamed Trinity Covenant Church. Of the four Jonsson daughters, Anna was the most musically gifted. She played piano, organ and guitar. Anna Johnson became the pianist of the Swedish Mission Church starting in 1900.
Leroy's father, Bror Anton Andersson, came from the small village of Övarp, parish of Norra Strö, near the city of Kristianstad ( spelled Christianstad from 1614 to 1906). This area is in the northeast corner of the province of Skåne, located in southern Sweden. Bror Anton Andersson was the seventh of eight children born to Nils Andersson and Hanna Nilsdotter who were crofters (toparen), working as farmers on land they rented. They decided to leave Sweden after Nils co-signed a loan for a friend who could not repay the loan. Nils could not earn enough money in Sweden to repay the loan himself so the family moved to the United States and sent money back to Sweden until the loan was repaid.
Nils Andersson, his wife Hanna, and their eight children traveled on a steamship to Boston via London in March 1882, one month shy of Bror's third birthday. The Andersons first lived in Chicago, Illinois and later moved to suburban Maywood, Illinois. Bror Anderson and his brother Nils Olof Anderson moved to Philadelphia and then to Cambridge, Massachusetts. The brothers rented an apartment at 241 Putnam Avenue in the Riverside neighborhood of Cambridge starting in 1897. This building is between River Street and Western Avenue and is now known as "Blackstone Science Square". In 1897 Nils Olof Anderson joined the Swedish Evangelical Mission Church which Bengt Johnson had founded earlier that year. As a young man, Bror played mandolin and banjo.
Many emigrants' names changed when they arrived in America. In Leroy Anderson's family, Jonsson became Johnson, Andersson became Anderson, and Leroy's father, Bror, ("brother" in English) became Brewer.
Swedish Americans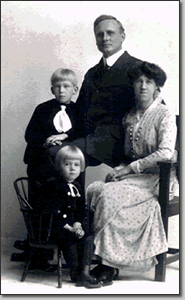 In Cambridge, Massachusetts, Anna Margareta Jonsson and Brewer Anton Anderson were married in October 1904 at the Swedish Evangelical Mission Church in Cambridge which Anna's father Bengt Jonsson had founded. Brewer and Anna lived with Anna's parents at 269 Norfolk Street. Leroy Anderson was born in 1908. His only other sibling, Russell Brewer Anderson, was born in 1911.
When Leroy and Russell were young, their parents would speak to each other in Swedish when they did not want the boys to know what they were saying. They subscribed to the Swedish newspaper Svea which was published in Worcester, Massachusetts. Leroy was always interested in languages. After earning his Masters degree in music in 1930 from Harvard University, he began studying in the graduate school for a PhD in German and Scandinavian languages. In addition to his native English, Leroy eventually became fluent in Swedish, Danish, Norwegian, Icelandic and German. He listed French, Italian and Portuguese as his secondary languages.
Going back to Sweden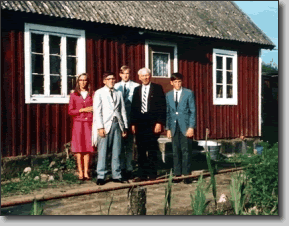 Leroy Anderson's first trip to Europe was in 1929. He went to find his father's birthplace in Skåne, Sweden. He encouraged his parents to make a trip to Sweden as well and gave them directions to the house in Övarp so that they could go to see it.
Leroy took his wife and daughter to Sweden to see the home in Övarp in 1959.
In 1962 Leroy Anderson visited Stockholm and conducted the Swedish Radio Orchestra in a concert that was broadcast on SR P 1, På estraden, October 19, 1962. Svenska Dagbladet published an article in the newspaper. Read it here: Leroy_Anderson_leder_radiokonsert_i_Stockholm.pdf..
Dagens Nyheter interviewed Leroy Anderson and asked him, among other questions, if he and his family enjoyed playing other popular music of the day. Anderson replied that they prefer to play music by Bach and Stravinsky. Read the article here: Leroy_Anderson_spelar_Bach_och_Stravinskij.pdf.
In 1966 he took his wife and four children to Kristianstad. Although Leroy was able to find information about his family in the Norra Strö parish church records, he did not locate any living relatives. The Anderson family next enjoyed a longer visit to Stockholm.
Renewed Connections
In 2001 a distant relative in Sweden saw a reference to Leroy Anderson's father being from Övarp, found the Anderson family's website about Leroy's music on the internet and wrote an email to the address on the website. This email has led to a renewal of the Leroy Anderson family's connections to Skåne.
Although Leroy Anderson's music was always popular in Scandinavia as well as in North America, Leroy was thought of in Scandinavia as an American composer, not as a Swedish American composer. Little was actually known about Leroy's connections to Sweden as this background was never considered important to use in biographical information during his lifetime.
Kristianstad Celebrates Leroy Anderson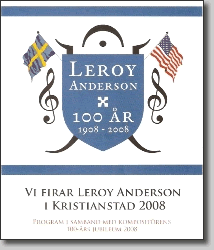 With the approach of the Leroy Anderson Centenary, a member of the Kristianstad Big Band in southern Sweden decided to do some research into Leroy Anderson's heritage. Tommy Stjernqvist contacted the Anderson family in Woodbury in 2006 to ask if Leroy had a Swedish background and, if so, where his Swedish family originated.
Leroy's widow Eleanor Anderson and daughter Jane Anderson Vercelli wrote to Tommy telling him that Leroy's mother came from Stockholm and that his father came from a little village in southern Sweden called Övarp. Tommy was surprised since he lived only 7 kilometers away from Övarp in Färlöv.
On Saturday June 17, 2006, Tommy Stjernqvist, his son Michael Stjernqvist and Inge Friberg, Director of the Kristianstad Big Band, went to find the old Andersson home. The owner of the house, Mats Mårtensson, was home and invited the three visitors inside. Tommy asked Mats if he knew that the father of Leroy Anderson had been born in this house. Like most Swedes, Mats was very familiar with Leroy Anderson's music but had no idea that his house had been the birthplace of Leroy Anderson's father. Mats was so surprised that he could not sleep that night thinking about his connection to Leroy Anderson.
2008 a year-long festival for Leroy Anderson in Kristianstad, Sweden near Leroy's father's birthplace, was the largest celebration for the composer in the world. Several Anderson family members from the U.S. attended a special performance in Kristianstad on April 26, 2008 with over 700 musicians performing Leroy Anderson's music for an audience of 2,000 people. For more information, see the file: Skåneätllingen_Leroy_Anderson.pdf.
Gunnar Julin, music director of the Akadamiska kapell at the KTH (Royal Tecnhical College) in Stockholm gave a concert of music by Leroy Anderson and of Lars Erik Larsson at Kristianstad's Holy Trinity Church. The concert took place on October 12, 2008, featuring two composers with Scanian roots. Larsson was born in &Aring:karp, Anderson's father came from nearby Övarp. For more information, see the file: Kristianstads_Heliga_Trefaldighets_Kyrka.pdf.
Swedish Emigrant Institute Exhibit Features Leroy Anderson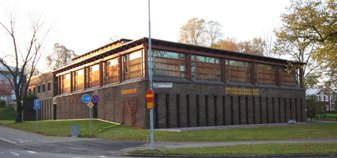 The Leroy Anderson Foundation is very pleased that an exhibit about Leroy Anderson has been included in the Swedish Emigrant Institute in the town of Växjö, in the province of Småland in south central Sweden. Leroy Anderson is featured in the part of the exhibit devoted to famous Americans with Swedish ancestry. A photograph of the composer with biographical information is displayed above an earphone for listening to several of Anderson's best known compositions. A Swedish text provides some biographical information about Leroy Anderson. For more information, see the file: Utvandrarnas_Hus_Leroy_Anderson.pdf.
---