Updated April 8, 2023
Harvard University Band and Leroy Anderson
Leroy Anderson played trombone in the Harvard Band while at Harvard from 1925 to 1929. He was responsible for many of its famous college medleys which he arranged while serving as Music Director of the Harvard Band in 1929 and from 1931 - 1936.
History of the Harvard University Band 1925 - 1936 by Leroy Anderson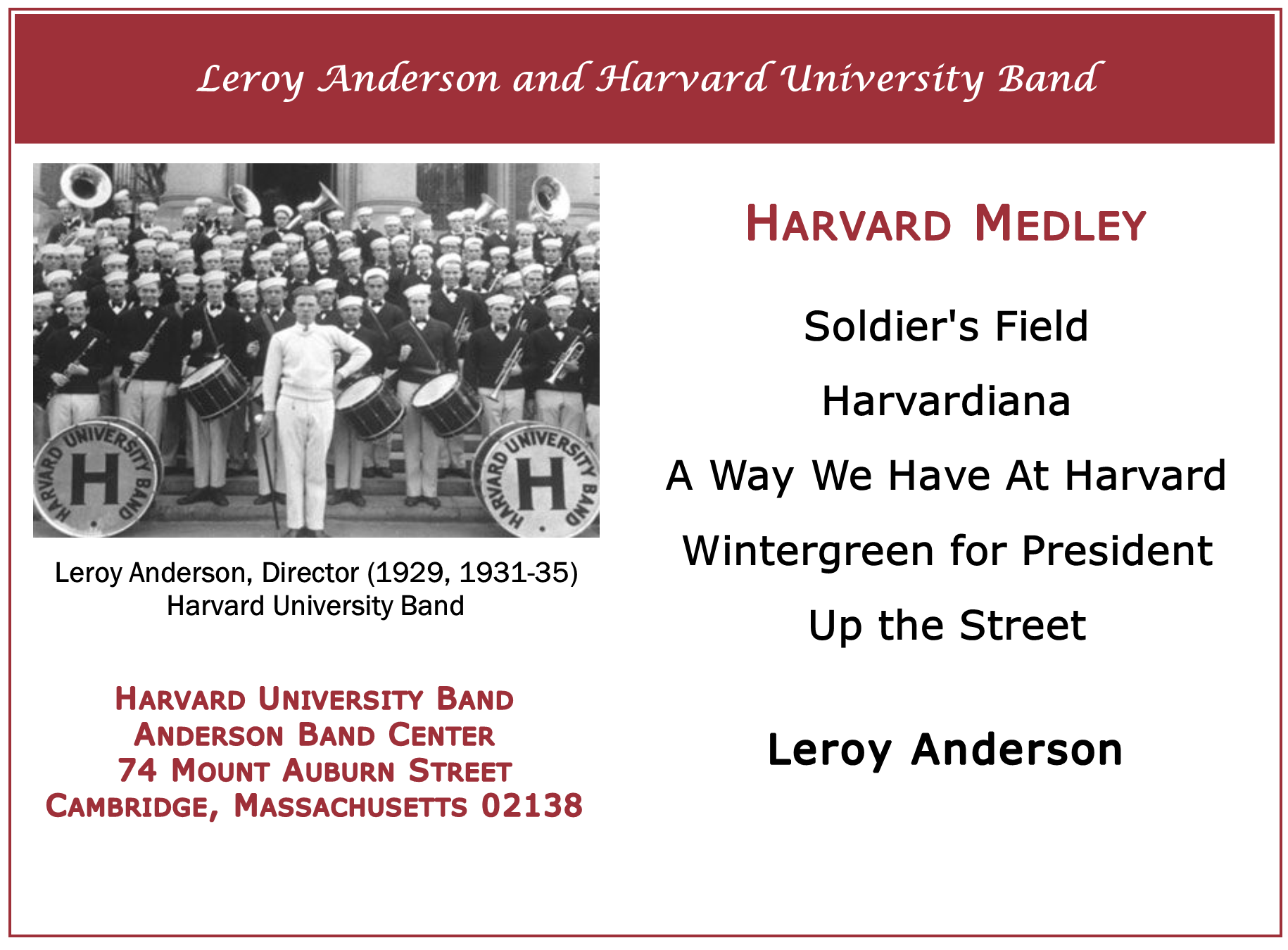 Arrangements for the Harvard Band by Leroy Anderson1929
Brown Medley / arr. L. Anderson
Brown Cheering Song; Bruno; On The Chapel Steps; We Are Ever True to Brown;


Cornell Medley / arr. L. Anderson
March On, Cornell; Even Song; Fight for Cornell; Far Above Cayuga's Waters;


Dartmouth Medley / arr. L. Anderson
Glory to Dartmouth; Dartmouth's in Town Agarin; As the Backs Go Tearing By;


2nd Dartmouth Medley / arr. L. Anderson


Fair Harvard 1:24 / Samuel Gilman1911, arr. L. Anderson


Harvard Medley (1929) 2:39 / arr. L. Anderson
Soldier's Field; Harvardiana; A Way We Have At Harvard; Wintergreen for President; Up the Street;


Harvardiana (1929) 1:15 / R.G. Williams1911, arr. L. Anderson


Princeton Medley / arr. L. Anderson
Cannon Song; Auld Lang Syne; It's Always Fair Weather; Invercargill;


Radcliffiana / L. Anderson


Soldier's Field (1929) 1:00 / Richmond K. Fletcher1908, arr. L. Anderson


Ten Thousand Men of Harvard (1929) 1:25 / Murray Taylor1910, arr. L. Anderson


Tercentenaria 1936 / L. Anderson


Tiger Medley (Princeton) / John A. Finnegan, arr. L. Anderson
Going Back to Nassau Hall; The Orange and the Black; Alma Mater; Tiger Rag;


Wintergreen for President (1929) / arr. L. Anderson


Yale Medley (1935) 4:18 / arr. L. Anderson
Here's to Eli Yale; Goodnight, Harvard; Down the Field; Boola, Boola; Bulldog; Rhapsody in Blue; Alma Mater;


The Harvard University Band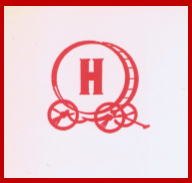 The Harvard Band was founded in 1919. In previous years the University Banjo and Mandolin Clubs entertained spectators at Harvard football games.

The Harvard Band always finds time during the half-time show to play one of its famous football medleys for the opposing school. These medleys contain ingenious arrangements of most of the football songs of the various schools for whom they are played. Harvard is probably unique among American colleges in that the spectators at its football games always arrive fifteen minutes before game time and do not leave their seats between halves. That is because the Harvard University Band consistently turns out a quality of entertainment matched by few other organizations - collegiate or professional. The New York Herald Tribune called the Harvard Band - "Harvard's walking symphony".

In October 1949 the Band held its first Harvard Band alumni reunion. 100 former members of the Harvard Band attended the 1949 reunion.
Leroy Anderson and Harvard
1925 - 1926 - Harvard Band and Harvard Glee Club
Leroy Anderson entered Harvard College in the Fall of 1925 on the Cambridge scholarship which was offered to qualifying graduates of Cambridge High and Latin School. Rather than live on campus, he continued to live with his parents at 12 Chatham Street in Cambridge. Starting in his Sophomore year, Anderson spent considerable time at Anthorp House, an informal student center for non-resident Harvard students. Anderson had begun to play the trombone as a Freshman at Cambridge Latin School. At Harvard Anderson played the trombone in the Harvard Band and sang in the Glee Club. He left the Glee Club after one year because he felt that the other members lacked sufficient musical training and experience. The Harvard Glee Club simply did not measure up to Leroy Anderson's high musical standards. The Harvard Glee Club at that time did, however, attract students who came from socially prominent families.
Leroy Anderson and Harvard Orchestra 1926 - 1928
Leroy Anderson was invited to join the Harvard Orchestra in his sophomore year - the Autumn of 1926. Known as the Pierian Sodality, the Harvard Orchestra was founded in 1808 and claims to be the oldest orchestra in the United States. Also known for attracting students from socially prominent families, the orchestra was during these years conducted by composer Nicholas Slonimsky. Slonimsky needed a double-bass player which was Anderson's other instrument from his years at Cambridge Latin School.

Whereas the Harvard Orchestra had been known for performing light music in the early 1900's, under Slonimsky the Harvard Orchestra performed modern works by Copland, Honegger and Krenek.
Harvard Band under Leroy Anderson
While several members of the Harvard Band from 1925-1929 had musical talent, most of them did not aspire to be professional musicians as Anderson did. Once he was named Director of the band in December of 1928, Leroy Anderson began making new arrangements of many songs in the Harvard Band's repertoire. He wanted to improve the band's musicianship and in order to accomplish this, Anderson knew that the band needed better music to play. His first arrangements included Harvardiana, Soldier's Field and Ten Thousand Men of Harvard. Wintergreen for President was an arrangement of the Gershwins' song from the musical "Of Thee I Sing". Anderson changed the lyrics and included excerpts from songs of various Ivy League schools.
The Harvard Band's famous scramble system was created in 1932 by HUB Drill Master Guy Vernon Slade1932 of Jamaica Plain, MA. [ref: "History of the Harvard University Band 1925 - 1936 by Leroy Anderson"]
Leroy Anderson and George E. Judd
Some trademarks of Leroy Anderson's arranging style included changing key at the midpoint of a song, using two melodies simultaneously, quoting briefly from other well-known music, and always giving a rousing symphonic ending. That Anderson's arrangements were well-scored, entertaining to hear and challenging to play added to their appeal.

The arrangements Leroy Anderson wrote for the Harvard Band impressed the business manager of the Boston Symphony Orchestra, George E. Judd. George Judd was a Harvard graduate (class of 1911) and noted the excellent arranging and conducting style of Leroy Anderson at a Harvard Football game's half-time show. George Judd approached Leroy Anderson in the Spring of 1936 after a concert at Sander's Theater which Anderson had conducted. Mr. Judd asked if Anderson would make an arrangement of Harvard songs for the Boston Pops "Harvard Night" concert for the 25th reunion of Mr. Judd's graduating class of 1911.
// Anderson has a remarkable inborn sense of rhythm and magnetic authority as a conductor.
Raymond Walter Spalding one of Anderson's music professors at Harvard (1935)
Leroy Anderson and Arthur Fiedler
Leroy Anderson had his first major appearance as a conductor on May 12, 1936 when he conducted the Boston Pops Orchestra in Symphony Hall. Anderson conducted his arrangements of music from the 1936 Harvard "Hasty Pudding Show" - "The Lid's Off" by Newbury '37, Sargent '36, and Bacon '37. ( From 1935 to 1937 Anderson wrote a total of 38 arrangements for the Hasty Pudding Show (35 for Dance Orchestra and 3 for Voice and Piano).

Leroy Anderson wrote his Harvard Fantasy for the Boston Pops which he conducted himself on June 16, 1936. After the concert Leroy Anderson went backstage to meet Arthur Fiedler who was in the music librarian's office studying the score of Harvard Fantasy. It was then that Fiedler complimented Leroy Anderson for his excellent orchestration.
// For some time previous to meeting Fiedler I had been undecided whether to hold to my plan to teach languages or to devote myself entirely to music. A little later I was offered an excellent position teaching German at a prep school in Pennsylvania, and I saw I would have to make a decision one way or the other. Mr. Fiedler's advice and encouragement turned the trick. I refused the position and resigned myself to making languages a hobby rather than a vocation. And I have never regretted this decision.
Leroy Anderson
From 1929 to 1930 he held the Elkan Naumberg Fellowship, while pursuing his M.A. Music which he received in 1930.
---
References
"Music at Harvard, A Historical Review of Men and Events"; Walter Raymond Spalding, (Coward-McCann, Inc.) 1935 p 248.
"Leroy Anderson"; George Wright Briggs, Jr., (Leroy Anderson Foundation, Inc.) 2013
Leroy Anderson Archives, Leroy Anderson Foundation, Inc. Woodbury, Connecticut
Leroy Anderson: A Bio-Bibliography; Burgess Speed, Eleanor Anderson, Steve Metcalf. Harvard Band, Praeger, Westport CT USA; 2004
Leroy Anderson Papers, Irving S. Gilmore Music Library, Yale University, New Haven, CT
Baker's Biographical Dictionary of Musicians, fifth edition with 1971 supplement p 6.